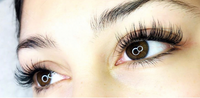 Save Time From Your Morning Routine!
Stop wasting your time AND Money on trying to draw your brows in daily. We can HELP!
Let us help YOU Save time, Money and your Sanity by getting Microblading, Ombre Powder Brows or Permanent Eyeliner or Lip Blush Tattoo.
Tired of Sparse brows? Come book with us today!
Book Your Appointment
Client Testimonials
From quality to price to ambience and style to grace and personality, I think Khristine and her salon embody it all. I've done the research, trust me. I've been all over this city trying to find my perfect lash angel, and it was such a relief when I found Khristine. She really is so talented and so sweet. I feel like she literally saved me!

Jyll K.
The lashes has been consistent - the retention is incredible... even when I have decided to take hot yoga! But please keep in mind, I've always followed her aftercare process TO a T! This is very important and Khristine always stresses that during our appointments. She's honest, efficient, conscientious, talented, and knows how to manage client expectations. I remain a loyal client because she truly is a professional & master at her craft.

Chris O.
Khristine and the whole Beauty FX team is so talented!!! Khristine has been in the beauty industry for many years and is completely transparent and honest with her customers regarding expectations! She always is precise and very much a perfectionist! Her work is hands down the best I've ever seen! She's done my brows and lashes weekly!! If you're in Northridge check her out!!!

Abigail M.
Permanent Makeup - Brows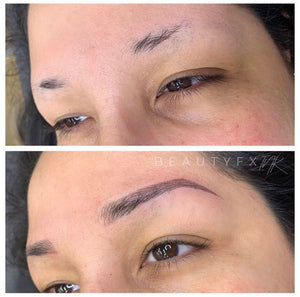 Microshading
We Customize our services to each individual client's needs. Microshading is a great option for those that would love the shaded staying power of powder brows with the natural look of micro bladed front brows.
Best suited for : Normal to Dry to Combination skin
Two techniques combined of Powder and microblading. These two techniques has been fuzed together to give you both of best worlds. Microblading hair strokes will be done in the front of the brow and ombre will be done in the middle to tail of the brow.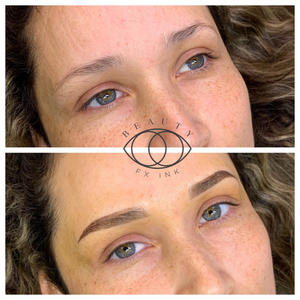 Ombre Powder Brows
Powder brows help clients achieve more of a powdered or ombre look instead of individual hair strokes. Great for clients with oily or mature skin.
Ombre Powder Brow is a style of brows that starts off lighter (in the front) than gradually ends darker at the tail. Initially the brows will be bold and dark as it is freshly tatted, but will heal to a soft powder look. Brow colors are catered based of the clients skin color , skin type, and daily makeup routine.
Microblading
Best suited for : Normal to dry skin ONLY & a good amount of hair that want a subtle enhancement. This method is done manually with a hand tool that consists of a grouping of needles. Each stroke is created meticiously by depositing micro-pigments into the skin. The artist will create each stroke to mimic natural looking eyebrow hairs. 
Beauty Fx Ink was Featured on CBS 2 Hit TV Show "This is LA"
Inkless Stretch Mark Removal available at beauty fx ink!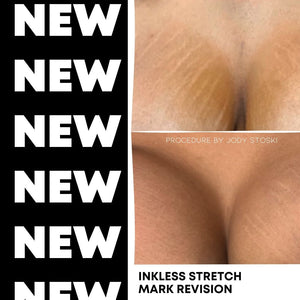 Inkless Stretchmark Removal
A method of treating stretch mark scars with a vitamin serum prior to, and perhaps instead of, camouflage tattooing. The vitamin serum is placed on the skin after needling with a rotary tattoo machine. The serum combined with the needling triggers the body's natural healing response to make the stretch mark less noticeable.
More Information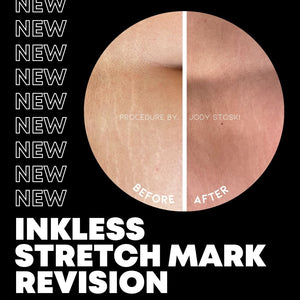 Tired of your stretch marks?
Get Your Body Back With Inkless Stretch Mark Removal!
 PERMANENT
 Non-Invasive
 Less Expensive Than Laser
Works On New And Old Stretch Marks
All Skin Types
Most Clients See a 20-100% Improvement After Just One Treatment 
More Information
WHAT'S THE DIFFERENCE BETWEEN INKLESS AND CAMOUFLAGE?
Stretch mark camouflage tries to match ink to your skin tone to blend the stretch marks. The problem with this is the ink may change color over time and also your skin tone may change with light exposure. With inkless, there is no color and the serum that is placed into the dermis will help your body do what it does naturally. Your skin will produce its own natural tanning properties again and your skin tone will blend seamlessly on its own.
More Information
Location
Beauty FX Ink Studio & Academy
Phenix Salon Suites
9301 Tampa Ave., Space 565
Suite 136 & 137
Northridge, CA 91324
By Appointment Only!
----------------------------
Beauty Fx Ink (part time location)
Inside "Beauty Well" Salon
829 Foothill Blvd.,
La Canada, CA 91011
By Appointment Only!